Why Tree Pruning is Important
Regular pruning is vital to maintaining the health and character of your tree. Proper maintenance will prevent early death and overgrowth which can cause damage to your property and the tree structure itself. Tree pruning is also a safety issue, branches near electrical lines or any other hazards can become dangerous or cause damage to essential services. 
The Benefits of Tree Pruning
Keep your tree healthy
Regular pruning of your trees enables the removal of unhealthy branches and leaves. By pruning, you're encouraging new growth which promotes increased flower, fruit and leaf production on your tree. 
Regular pruning will:
Increasing the lifespan of your trees

Getting rid of damaged branches

Weight reduction of trees

Removal of dead limbs
Revitalise your garden 
There are many benefits that extend beyond the health and wellbeing of your tree. Tree pruning can breathe new life into your garden by prompting fresh growth and helping to reduce dead branches or trees. 
Pruning can also:
Improve the sunlight in your property and home

Make your garden or property more appealing

Improve visibility by removing unnecessary tree growths
Trust the Experts
Tree pruning can be tricky if you don't know what you are doing. Incorrect pruning can damage, or in some cases, kill your tree. However, you can rely on the local team at Jim's Tree and Stump Removal to take great care of your trees. 
As trained professionals, our teams have years of experience in pruning and general tree maintenance. If you have a tree problem you are unsure on how to solve, call in the experts. We'll care for your trees by carefully assessing their specific requirements, providing professional advice and giving you a range of options to suit your budget. 
Quick, Easy and Effective 
Our best practice techniques means we work efficiently and effectively. We'll also clean up any branches or tree materials after the work is done, making the whole process easy from quotation to completion. Jim's Tree and Stump Removal will ensure that your trees are healthy, live longer and are also made safe for your property.
To learn more about our tree pruning services, contact our friendly team today.
---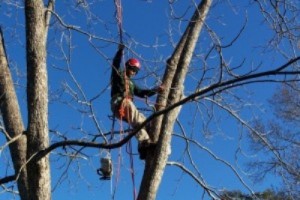 Tree Pruning Services
The value you get out of your trees will depend on the effort and care you put into them. If you take care of your trees, they will grow fruits and flowers for you during the year and bring you shade from the sun. They can also be used to beautify your land and add value to your property.
But trees that are not cared for and are neglected can become home to pests and may start to become weak or decay.  These trees can also become infected by fungus and other organisms that sap their strength and decrease their beauty.
At Jim's Trees we provide all the services and expertise to make sure your trees are protected and well maintained. We have all the equipment to prune and care for your trees, ensuring they have long, healthy lives. We know your trees are important you, and we want you to be able to get the most out of them.  That's why we offer a full range of services for your trees that include expert inspections, pest control, tree care, tree and stump removals, and much more.
Tree Care and Maintenance
Trees have always been an important source of food, shelter, and oxygen for people. And in the modern times, many people have made use of trees as a means to add beauty to their land. It's not uncommon to find a tree in most yards and even on the grounds of corporate offices and retail structures.
But trees are also natural products and living organisms that grow, flourish, and then decay and die. It is a natural lifecycle that they all have to go through. And once trees start to decay, they can pose a danger to people and their property. Their branches can fall and cause damage, or the trees can become home to pests.
We know the value of these amazing plants at Jim's Trees. For years, we have been bringing tree care and maintenance services to our valuable customers. We have built up a reputation of high quality work that meets the strictest standards. We are committed to our customers and to meeting their needs for tree care.
Tree and Hedge Trimming Services
Trees have a value to your property that cannot be replaced. They provide natural shade and oxygen, and they bring beauty to your land. These natural forms of decoration are perfect for rural homes or metropolitan businesses, but after a while, they can start to pose a danger to the people and property around them.
As trees begin to decay, they branches and trunks become weak and may potentially fall and cause damage. Trees that are not cared for can grow where they are not wanted, become unpleasant to look at and lose their luster very early.
But by having your trees professionally pruned, you can keep them from growing over your windows or into your patio or porch. You can also keep them from overgrowing power lines and from posing a danger when sever storms hit the area.
Palm Tree Removal
Palms can be a great way to beautify a property and add value to it. But you have to know that your palm trees won't be around forever. Once palms start to decay, they can become a danger to you and your property. Sometimes you just want to get rid of your trees because they are impeding your plans for a garden, lawn or an addition on your home.
Whatever your needs, we at Jim's Trees are ready to help. We bring years of arborist services and expertise to each job we do. We can perform all tree cutting, pruning, lopping, and removal services that you require with unrivaled professionalism and friendliness.
Palm trees, as you may be aware, are incredibly sturdy. It can take a lot to fell one, which means it can be dangerous to try to remove them yourself. That's why we recommend you only use professional services for all your palm removal needs. We have the tools and training to get the job done safely and quickly.